Treecard by Ecosia is a new debit card designed to reforest – and a card that is made of wood! Some previous app ratings suggested that this was "not real", but it is in fact a real card – it has been delayed but the card production issues apparently were figured out, as they are shipping now.
The setup requires an email address, SSN, and a phone with Android or iOS. On a non Google Android you may need Aurora Store, which works with anonymous login as it is a free app.
Setup is pretty straightforward, as you can see, after signing up with your name and info you will be prompted to connect an account while your card is shipped: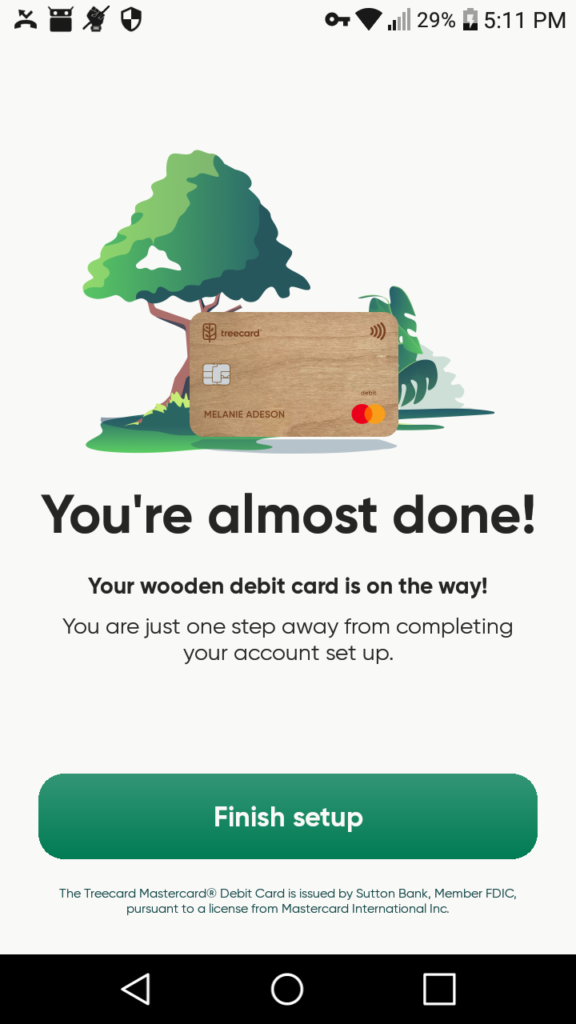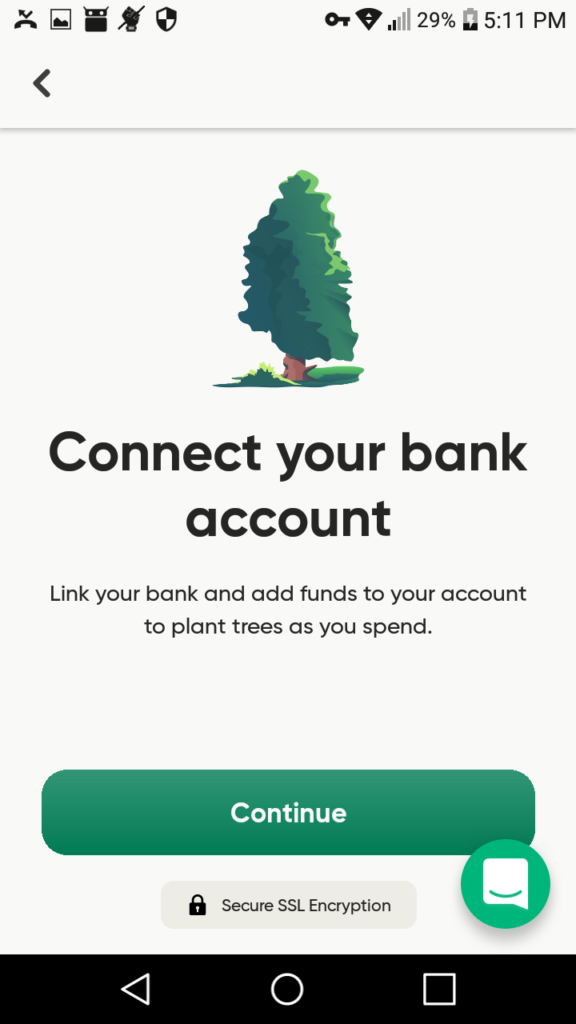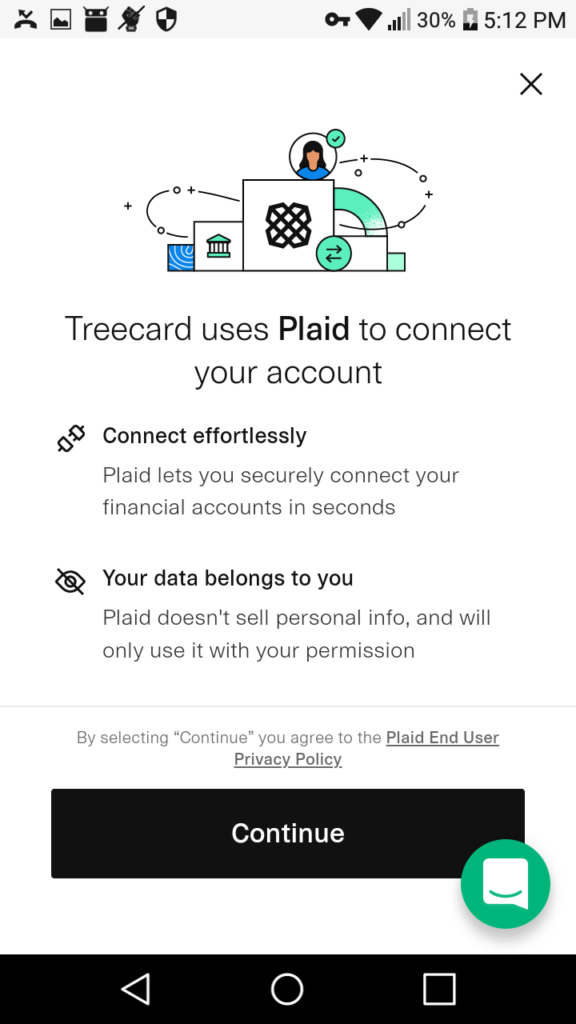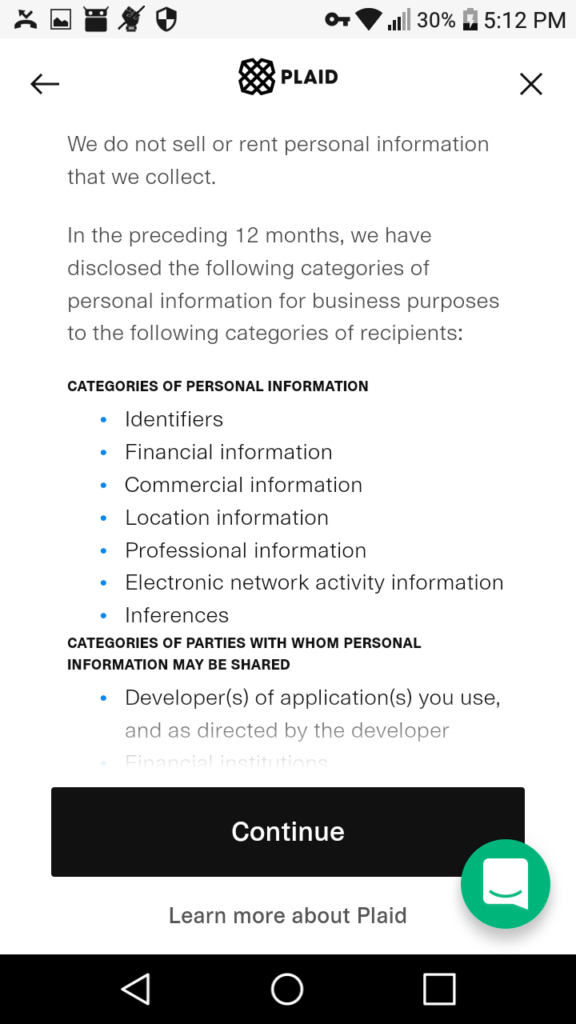 A secure Oauth opens in the browser letting you connect without sharing login details with Treecard.
Receiving
Treecard comes in a tri-fold with an included postcard to send with a tree picture, and overview of the program.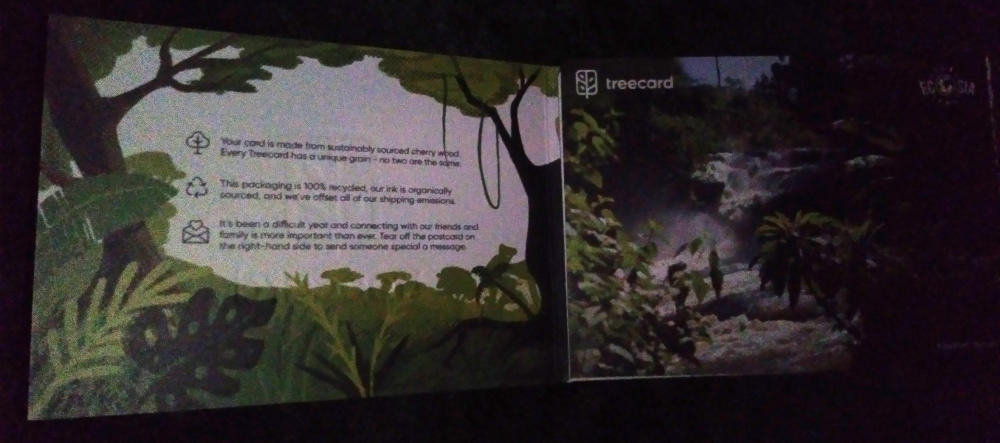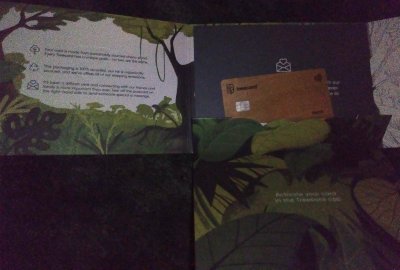 Advantages
Refillable debit card – this may have the psychological effect of not spending more money, as with credit cards. You have to re-transfer money and purchases are counting down and not counting up as with a credit card.
2 Trees are planted at start up, and more at approximately $60 of purchases. At no cost to you! That's a good deal, better than simply supporting some bank with the interchange fees and costs.
No fees
Rewards – cashback of 2%-12% for various online or retail offers listed in the app. I haven't tried this one.
Disadvantages
Only Android/iOS access?? It appears there is no normal web portal to manage or see balance of the account. This will likely be a deal-breaker for most computer users, no way to check it out on your accounting computer.
The card is not actually "made of wood", you can see it is a real wood veneer on the front and back side, with a plastic-ish middle. So, there is less plastic, but still plastic – the same construction as you may see in other cards that are a plastic veneer front and back coating over a center piece.
No obvious way to withdraw dollars back to account, other than in the usual debit card way.
Takes time for money to load – after connecting a bank account through your bank's Plaid OAuth login connection, you must choose a checking (not visa/credit card) account and move some money from checking account via ACH (which takes a couple days).
It took just less than a week for the card to come in the mail after initial setup – sent from overseas where it is custom built I suppose.
Conclusion
The Treecard is a very unique and timely card, considering the rampant fires and deforestation these past few years. It's a way you could make a difference at no cost to you with regular card usage, so it's definitely worth a look. Check it out and plant a tree with this link.